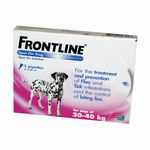 Frontline Spot On for Large Dogs 3x2.68ml
£27.00
Sold out
Non systemic Spot On acts on contact not via your pet's blood. Use as part of a strategy for the treatment of Flea Allergy Dermatitis (FAD) where this has been previously diagnosed by a veterinary surgeon.

Kills 98%-100% of all fleas within 24hrs for up to 5 weeks. Prevents re-infestation by adult and immature ticks for up to one month. Fully controls infestations of lice within 48 hours.

Please read accompanying directions fully before use.