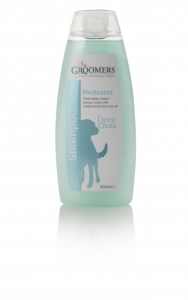 Groomers Medicated Shampoo and Tea Tree Oil 300ml
£5.00
Sold out
Tea tree with its well known traditional healing properties has been used for centuries to help cleanse and soothe skin. This product is also ideally suited to animals that have very dirty coats.
Groomers Medicated Shampoo has been specifically formulated to deeply cleanse dogs with dirty or greasy coats. Containing natural Tea Tree Oil known for its anti-bacterial properties, this shampoo gives lasting freshness whilst maintaining healthy skin and coat condition.
Groomers Expert Tips: Particularly good for coarse and textured coats or very dirty, greasy coats requiring a deep clean.