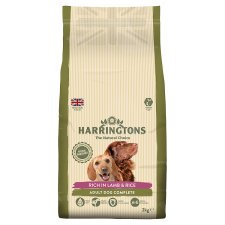 Harringtons Complete Dogfood Lamb And Rice 2Kg Available In Store
£3.99
Sold out
Rich in Lamb & Rice is a complete pet food for all dogs from 8 weeks onwards.
Caring for The Environment
As part of Harrington's commitment to the environment, this pack is compostable. Considerable time and effort has been taken to produce packaging that will bio-degrade. We are very proud of our product, made in North Yorkshire, and can be equally proud of this commitment.

You can find out more about our products and us on our web site at www.harringtonspetfood.com
We even feature prize draw competitions - why not check it out today?
What is Special About Harringtons Rich in Lamb & Rice?
Kelp - a natural source of vitamins, minerals and trace elements.
Yeast to help maintain a healthy digestion.
With Lamb, a good source of protein.
Citrus extracts and added vitamins help support a healthy immune system.
Balanced ration of Omega 6 & 3 fats for a glossy coat.
Yucca to help reduce unpleasant odours from flatulence.
The Harringtons Story
In the 19th Century, Great Grandfather Harrington started milling in Yorkshire. Three generations later, Harringtons retains a proud family tradition of producing top quality pet foods, sourcing locally grown products wherever possible, to give your dogs natural, wholesome food free from any artificial flavours or colours.

Want to know more about Harringtons?
As well as nutritious complete food for dogs and puppies, Harringtons also produces a range of healthy dog treats.
Omega 6 & 3 fatty acids
Citrus antioxidants
Nutrient rich kelp
Reduces flatulent odours
Healthy digestion and immune system
Made in North Yorkshire
No dairy, soya and added wheat
No artificial colours or flavours
Allergy Information
No added wheat
Dairy
Soya

Pack Quantity
2kg ℮